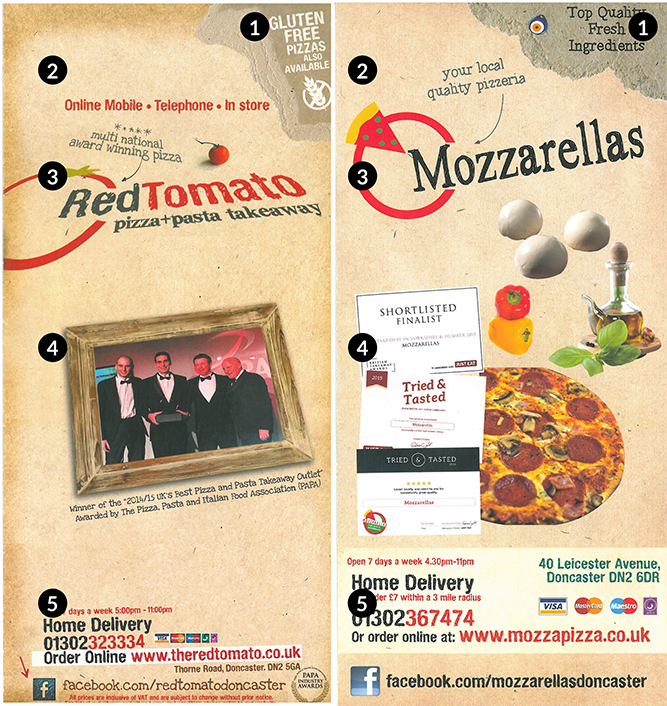 1. Each of the leaflets has a torn-off edge effect in the top right corner

2. Both of them have the same cardboard styled background

3. Even the logos are similar - a combination of a sketchy wordmark with circular pictorial mark around the first two letters and rotated anti-clockwise

4. Each of the leaflets advertise past celebrated awards. Sorry they are different "Red Tomato were Winners 2014/15 UK's Best Pizza and Pasta Takeaway Outlet" while 'Mozzarellas' were just shortlisted finalists so actually didn't win anything.

5. Each of them follow the same text layout, same condensed font and even use highlighted red sections to draw attention to the web address and telephone numbers
Is this acceptable?
Designer's Point of View:
This leaflet crosses the line from influence into plagiarism. Sure, professional designers think alike and may create a design solution that could be similar, but wrongful appropriation is stealing. A client may ask for a designer to create something similar but inspiration should be as far as it goes.
Consumer's Point of View:
Comparing both the Red Tomato and Mozzarellas leaflets, it's pretty clear from the amount of work put into them - Red Tomato has a more classy and professional feel to it. For a designer to take inspiration from other designer's work but taking content directly from one design and placing it on another design defeats the object of being a designer.
Customer's Point of View:
If you hire a designer to produce some leaflets, you would expect the work to be of the standard in relation to the experience they have. They should have the feel for the creative and understand what is great for user experience. Finding out that the work you paid for has been taken from another company who paid to market their leaflets is a little unsettling and doesn't spark confidence in the designer.